It's day two of The Allam British Open Masters 2013, and we have some surprising and exciting results to report.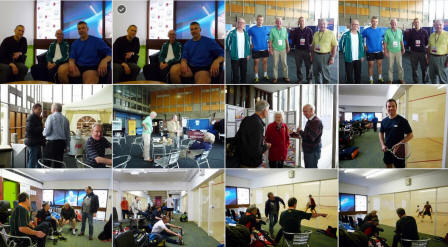 In the Men's over 45 category, Number 1 seed seed Craig Van Der Wath triumphed in a second round match against 9/16 seed Mark Hildred . Van Der Wath won all three games comfortably in just 23 minutes. Also in the Men's over 45 category 9/16 seed Martin Gear produced a sensational performance beating 5/8 seed Andrew Eilfield in just three games with some convincing and impressive game scores – 9/2  9/1  9/1.
The Men's over 50 category got off to a fantastic start with Swedish player Jonas Ulvsback sailing in to the quarter finals with a skilful 3-0 victory against 5/8 seed Steven Martin. 5/8 seed Dermot Hurford will be joining Ulvsback in the quarter finals, as he beat 9/16 seed Steve Barlow credibly in just three games.
Both top seeds from the Men's over 60 and 65 David Manning and Phill Ayton, proved to the competition that they were in it to win it by winning their respective matches 3-0.
In the Men's over 70 category, Desmond Sacco played some fantastic squash which resulted in him knocking 5/8 seed John Shaw out of the competition. The pair battled it out in five action packed games with Sacco coming out on top.
In the Women's over 40, first round, Amanda Warren out played Alison Insley, and won her match 3-0. Also in the Women's over 45 Annie Walton put in a tremendous session beating Swede Isabel Ulvsback without dropping a point in all three games.
[dropshadowbox align="center" effect="lifted-both" width="95%" height="" background_color="#ffffff" border_width="1″ border_color="#dddddd" ]
Day TWO Results:
Updated Draws after Day Two
Men O35 | Men O40| Men O45 | Men O50 | Men O55 | Men O60 | Men O65
Men O70 | Men O75 | Women O40 |Women O45
Men Over 35 – Round 1
Barry Talbot {Shropshire} beat Clancy Chauluka Walkover ;
Men Over 35 – Round 2
23/05/2013:1* Scott Handley beat Steven Payne {Sussex} Walkover ;5/8* Liam Nolan {Norfolk} beat David Gouldby 3-11, 13-11, 11-9, 2-11, 12-10 {66m} ;3/4* Sam Stabler {Kent} beat Nick Hargreaves 9-11, 11-8, 4-11, 11-5, 11-5 {52m} ;Jonathan Slee {Durham & Cleveland} beat 5/8* Abdul Razzaq Walkover ;5/8* Rishad Pandole {India} beat Barry Talbot {Shropshire} 11-5, 11-3, 11-5 {18m} ;3/4* Mick Biggs {Middlesex} beat Richard Green {Hampshire} 11-2, 11-8, 11-5 {26m} ;5/8* Christian Donelan {Kent} beat Dean Newberry {Sussex} Walkover ;2* Tim Burrell {Berkshire} beat Jon Hunter {Cheshire} 12-10, 11-8, 11-6 {26m} ;
Men Over 35 – Quarter-Final
24/05/2013:3/4* Sam Stabler {Kent} beat Jonathan Slee {Durham & Cleveland} Walkover ;
Men Over 40 – Round 1
22/05/2013:9/16* Philip Bowker {Yorkshire} beat Franz Hanser 11-2, 11-1, 11-7 {15m} ;Gabby Romano {Israel} beat 9/16* Niall Morris {Scotland} Walkover ;Darren Beckett {Yorkshire} beat 9/16* Volkan Hidayetoglu {Turkey} Walkover ;Marvin Rust {Hertfordshire} beat 9/16* Matthew Stephenson {Yorkshire} 12-10, 12-10, 2-11, 11-9 {56m} ;Christian Borgvall {Sweden} beat 9/16* Lee Scott {Yorkshire} 11-3, 11-9, 11-5 {21m} ;Simon Evans {Hertfordshire} beat 9/16* Mark Bellinger {Sussex} 11-6, 11-3, 11-4 {23m} ;
Men Over 40 – Round 2
23/05/2013:1* Jamie Goodrich {Norfolk} beat 9/16* Philip Bowker {Yorkshire} 11-8, 12-14, 11-1, 11-4 {39m} ;5/8* John Hanson {Yorkshire} beat Gabby Romano {Israel} 11-2, 11-5, 11-4 {24m} ;3/4* Glen Ragou {Lancashire} beat Darren Beckett {Yorkshire} 8-11, 11-5, 11-3, 11-7 {24m} ;5/8* Dovik Haruzi {Israel} beat Marvin Rust {Hertfordshire} 11-5, 11-9, 11-5 {29m} ;5/8* Anssi Maattanen beat 9/16* Simon Middleton {Yorkshire} 11-6, 11-4, 5-11, 5-11, 11-4 {38m} ;3/4* Chris Stanley {Hertfordshire} beat Christian Borgvall {Sweden} 5-11, 11-7, 11-5, 11-9 {30m} ;5/8* Stuart Summers {Hampshire} beat 9/16* Jonathan Gliddon {Devon} 11-4, 11-4, 11-5 {22m} ;2* Nick Wall {Yorkshire} beat Simon Evans {Hertfordshire} 11-7, 11-9, 11-7 {28m} ;
Men Over 45 – Round 1
22/05/2013:9/16* Mark Hildred {Lincolnshire} beat David Gray {Cumbria} 9-4, 9-4, 9-7 {31m} ;5/8* Phillip Mockridge beat Paul Howson 9-1, 9-2, 9-0 {18m} ;9/16* Bruce St Ledger {Bedfordshire} beat Paul Clark {Wiltshire} 10-8, 9-5, 9-0 {28m} ;3/4* Andrew Cross {Durham & Cleveland} beat Matthew Towers {Bedfordshire} 9-0, 9-0, 9-3 {25m} ;Rohit Thawani beat 9/16* Simon Spencer Walkover ;5/8* Andrew Eilfield {Hertfordshire} beat Mike Archibald 9-0, 9-1, 9-3 {14m} ;9/16* Martin Geear {Leicestershire} beat Patrick Carty {Wiltshire} 9-0, 9-0, 9-1 {17m} ;9/16* Steve Dodridge {Berkshire} beat Sean Coupland {Lincolnshire} 9-6, 9-2, 9-1 {28m} ;5/8* Stephen McLoughlin {Hampshire} beat Gary Wood {Lancashire} 9-1, 9-2, 9-0 {19m} ;Lennart Niklasson {Sweden} beat 9/16* Greg Els {South Africa} 5-9, 9-1, 9-4, 1-9, 9-3 {45m} ;3/4* David Youngs {Norfolk} beat Clive Lawrence Forbes 9-3, 9-1, 9-2 {22m} ;9/16* Raymond Burke {Yorkshire} beat Mikael Paulsson {Sweden} Walkover ;5/8* Duane Harrison {Kent} beat Marko Kruse {Germany} 9-2, 9-1, 9-5 {28m} ;9/16* Peter Lonsdale {Durham & Cleveland} beat Andrea Monfardini {Italy} 9-4, 9-4, 9-0 {20m} ;
Men Over 45 – Round 2
23/05/2013:1* Criag Van Der Wath {South Africa} beat 9/16* Mark Hildred {Lincolnshire} 9-2, 9-1, 9-1 {23m} ;5/8* Phillip Mockridge beat 9/16* Bruce St Ledger {Bedfordshire} 9-1, 9-5, 5-9, 9-5 {45m} ;3/4* Andrew Cross {Durham & Cleveland} beat Rohit Thawani 9-0, 9-0, 9-4 {22m} ;9/16* Martin Geear {Leicestershire} beat 5/8* Andrew Eilfield {Hertfordshire} 9-2, 9-1, 9-1 {22m} ;5/8* Stephen McLoughlin {Hampshire} beat 9/16* Steve Dodridge {Berkshire} 4-9, 9-7, 9-1, 9-1 {48m} ;3/4* David Youngs {Norfolk} beat Lennart Niklasson {Sweden} 9-1, 9-1, 9-0 {18m} ;5/8* Duane Harrison {Kent} beat 9/16* Raymond Burke {Yorkshire} 9-3, 9-7, 8-10, 9-7 {52m} ;2* Jean-Jacques Pineau beat 9/16* Peter Lonsdale {Durham & Cleveland} 9-1, 9-3, 9-4 {28m} ;
Men Over 50 – Round 2
22/05/2013:1* Eamonn Price {Hertfordshire} beat Nicholas Burr {Essex} 9-1, 9-0, 9-2 {22m} ;9/16* Nick Peel {Kent} beat Stephen Blacksell {Yorkshire} 9-5, 9-3, 9-5 {28m} ;5/8* Steven Martin {Yorkshire} beat Archie Lal 9-0, 9-3, 9-6 {26m} ;Jonas Ulvsback {Sweden} beat 9/16* Andrew Hood 9-2, 9-1, 9-1 {22m} ;3/4* John Van Heeswijk {South Africa} beat Mike Rooney 9-0, 9-1, 9-1 {14m} ;9/16* Les Hughes beat James Tosney {Northumbria} 9-1, 9-5, 9-3 {25m} ;5/8* Dermot Hurford beat Phil Wakefield {Yorkshire} 9-5, 9-5, 9-7 {37m} ;9/16* Steve Barlow beat Miguel Paredes {Mexico} 9-0, 9-0, 9-3 {17m} ;9/16* Nicholas Englert {Northants} beat Andrew Tuck 9-5, 7-9, 9-6, 6-9, 10-8 {64m} ;5/8* Ged Martin {Yorkshire} beat Guy Grayson {Derbyshire} Walkover ;9/16* Neil Harrison {Durham & Cleveland} beat Chris Thomas Walkover ;3/4* John Cordeaux {Norfolk} beat Peter Slaughter {Northumbria} 9-0, 9-0, 9-2 {15m} ;Jean-Claude Schmidt {Luxembourg} beat 9/16* Alastair Parsons {Nottinghamshire} 9-7, 9-4, 9-3 {33m} ;5/8* Darren Withey {Buckinghamshire} beat Steve Ross {Yorkshire} 9-1, 9-0, 9-3 {18m} ;9/16* Gary Raw {Hertfordshire} beat Andrew Chanter 9-6, 9-2, 9-0 {23m} ;2* Jon Evans {Wales} beat Ifty Ahmed {Yorkshire} 9-1, 9-0, 9-1 {16m} ;
Men Over 50 – Round 3
23/05/2013:1* Eamonn Price {Hertfordshire} beat 9/16* Nick Peel {Kent} 6-9, 9-3, 9-0, 9-4 {34m} ;Jonas Ulvsback {Sweden} beat 5/8* Steven Martin {Yorkshire} 9-5, 9-0, 9-3 {22m} ;3/4* John Van Heeswijk {South Africa} beat 9/16* Les Hughes 10-8, 9-0, 9-3 {25m} ;5/8* Dermot Hurford beat 9/16* Steve Barlow 9-6, 9-0, 9-0 {27m} ;5/8* Ged Martin {Yorkshire} beat 9/16* Nicholas Englert {Northants} 9-0, 9-6, 6-9, 3-9, 9-5 {50m} ;3/4* John Cordeaux {Norfolk} beat 9/16* Neil Harrison {Durham & Cleveland} 9-2, 4-9, 9-2, 9-7 {45m} ;5/8* Darren Withey {Buckinghamshire} beat Jean-Claude Schmidt {Luxembourg} 9-0, 9-2, 9-2 {21m} ;2* Jon Evans {Wales} beat 9/16* Gary Raw {Hertfordshire} 10-9, 10-8, 8-10, 7-9, 9-2 {90m} ;
Men Over 55 – Round 1
22/05/2013:9/16* Paul Harris {Middlesex} beat David Lines 4-9, 9-4, 9-1, 7-9, 9-6 {44m} ;5/8* Derek Lawrence beat Gary Westwood {Shropshire} 9-0, 9-4, 9-3 {19m} ;9/16* Peter Culver {Surrey} beat John Thompson {Northumbria} 9-5, 9-1, 9-5 {21m} ;5/8* Stuart Hardy {Middlesex} beat Lennart Rosander 9-1, 9-4, 9-2 {19m} ;9/16* Mike Riley {Lancashire} beat Steve Forster {Yorkshire} 9-2, 7-9, 1-9, 9-4, 9-0 {41m} ;5/8* Steven Williams beat Tim Miller {Gloucestershire} 9-0, 9-1, 9-4 {18m} ;9/16* David Stones beat Udo Dackweiler {Germany} 9-0, 9-2, 9-1 {14m} ;3/4* Jeremy Goulding {Avon} beat Stephen Ward {Cheshire} 9-2, 9-3, 9-6 {24m} ;9/16* Colin Shields {Durham & Cleveland} beat Robert White {Australia} 9-3, 9-1, 9-2 {24m} ;Ripley Oyler {Berkshire} beat 5/8* Gary Hampson 10-8, 9-3, 9-6 {23m} ;9/16* Simon Evenden {Northants} beat Kumar Kapoor {Nottinghamshire} 9-2, 9-4, 9-0 {17m} ;
Men Over 55 – Round 2
23/05/2013:1* Peter Alexander beat 9/16* Paul Harris {Middlesex} 9-7, 9-4, 9-4 {23m} ;5/8* Derek Lawrence beat 9/16* Satinder Bajwa 9-4, 9-2, 9-2 {31m} ;3/4* Duleep Adhihetty {Middlesex} beat 9/16* Peter Culver {Surrey} 10-8, 9-4, 9-1 {24m} ;5/8* Stuart Hardy {Middlesex} beat 9/16* Jack Shtein 3-9, 9-5, 9-0, 6-9, 9-5 {55m} ;5/8* Steven Williams beat 9/16* Mike Riley {Lancashire} 9-1, 9-4, 9-1 {22m} ;3/4* Jeremy Goulding {Avon} beat 9/16* David Stones 9-1, 9-4, 9-4 {27m} ;9/16* Colin Shields {Durham & Cleveland} beat Ripley Oyler {Berkshire} 9-2, 9-4, 9-7 {24m} ;2* Mark Cowley {Middlesex} beat 9/16* Simon Evenden {Northants} 9-6, 9-7, 7-9, 9-6 {44m} ;
Men Over 60 – Round 1
22/05/2013:9/16* Terence Norman {Cheshire} beat Eduard Stepanek {Austria} Walkover ;9/16* John Hithersay {Northants} beat Larry Grover {Hampshire} 9-4, 9-10, 9-5, 9-4 {36m} ;9/16* Neil Nightingale {Derbyshire} beat Peter Wilson {Derbyshire} 7-9, 9-5, 9-5, 9-1 {36m} ;Paul Vale {Cheshire} beat 9/16* Philip Godfrey 8-10, 4-9, 9-7, 9-6, 9-4 {60m} ;9/16* Paul Reader {Hampshire} beat Emilio Fazzi 9-6, 9-1, 9-7 {22m} ;5/8* Ian Holmes {Northants} beat Ian Smith {Kent} 9-3, 9-4, 9-4 {23m} ;9/16* Christopher Grainger {South Africa} beat Leon Kirton {Durham & Cleveland} Walkover ;9/16* Geoff Walton {Cheshire} beat Colin McNestrie {Northumbria} 6-9, 9-6, 9-3, 9-6 {40m} ;Chris Lock {Sussex} beat 9/16* Edward Winter {Yorkshire} 9-5, 9-4, 9-2 {23m} ;
Men Over 60 – Round 2
23/05/2013:1* David Manning {Yorkshire} beat 9/16* Terence Norman {Cheshire} 10-8, 9-5, 9-3 {20m} ;5/8* John Goodrich beat 9/16* John Hithersay {Northants} 9-2, 9-4, 9-6 {28m} ;9/16* Neil Nightingale {Derbyshire} beat 3/4* Nathan Marks 9-1, 2-9, 5-9, 10-8, 9-6 {54m} ;5/8* Stephen Jackson {Surrey} beat Paul Vale {Cheshire} 9-2, 9-1, 9-2 {19m} ;5/8* Ian Holmes {Northants} beat 9/16* Paul Reader {Hampshire} 4-9, 9-0, 9-2, 9-4 {23m} ;3/4* Ronnie Bell {Cumbria} beat 9/16* Christopher Grainger {South Africa} 9-2, 9-5, 7-9, 7-9, 9-5 {36m} ;9/16* Geoff Walton {Cheshire} beat 5/8* John Rae {Scotland} 7-9, 9-6, 6-9, 9-6, 9-3 {57m} ;2* Nicholas Drysdale {Avon} beat Chris Lock {Sussex} 9-1, 9-2, 9-1 {19m} ;
Men Over 65 – Round 1
22/05/2013:9/16* Tony Wheeler {Oxfordshire} beat Harry Brinkmeier {Germany} 9-0, 9-2, 9-0 {13m} ;9/16* Christopher Ansell {Berkshire} beat John Alderson {Yorkshire} 10-9, 9-1, 6-9, 7-9, 9-2 {36m} ;9/16* John Smith {Northumbria} beat Alan Hagger {Derbyshire} 4-9, 7-9, 9-6, 9-2, 9-7 {42m} ;9/16* Graham Fisher {Sussex} beat John Forrest 9-3, 9-1, 9-2 {15m} ;9/16* Alan Beal {Lincolnshire} beat Thomas Elves {Durham & Cleveland} 9-1, 9-2, 9-4 {17m} ;
Men Over 65 – Round 2
23/05/2013:1* Phil Ayton {Sussex} beat 9/16* Geoff Howes {Surrey} 9-5, 9-0, 9-6 {20m} ;5/8* Howard Cherlin {Middlesex} beat 9/16* Tony Wheeler {Oxfordshire} 10-9, 9-3, 9-4 {23m} ;3/4* Barry Featherstone {Hampshire} beat 9/16* Martin Day {Yorkshire} 9-0, 9-0, 9-0 {41m} ;5/8* Rodney Boswell {Cheshire} beat 9/16* Christopher Ansell {Berkshire} 9-4, 9-2, 9-1 {24m} ;9/16* John Smith {Northumbria} beat 5/8* Martin Pearse {Norfolk} 9-6, 9-4, 7-9, 9-2 {31m} ;3/4* Chris Goodbourn {Middlesex} beat 9/16* Graham Fisher {Sussex} 9-5, 9-5, 9-7 {35m} ;5/8* Aubrey Waddy {Buckinghamshire} beat 9/16* Alan Beal {Lincolnshire} 9-2, 4-9, 9-1, 9-6 {23m} ;2* Brian Cook {Australia} beat 9/16* Rod Tate {Yorkshire} 9-4, 9-4, 9-3 {22m} ;
Men Over 70 – Round 1
5/8* Andrew Beeston {Merseyside} beat David Bloch Walkover ;Eric Robinson {Wales} beat 5/8* Bjorn Borgvall {Sweden} 10-9, 9-6, 10-9 {27m} ;5/8* Anthony Clifford {Hertfordshire} beat Eric Innes {Yorkshire} 9-3, 9-1, 9-0 {18m} ;Desmond Sacco beat 5/8* John Shaw {Durham & Cleveland} 9-7, 3-9, 9-2, 9-1 {23m} ;
Women Over 40 – Round 1
Amanda Warren beat Alison Insley {Warwickshire} 9-0, 9-0, 9-2 {20m} ;
Annie Walton {Cambridgeshire} beat Isabel Ulvsback {Sweden} 9-0, 9-0, 9-0 {10m}
[/dropshadowbox]