Master Finals Report   
The final day of the Masters event finally arrived and promised to be a day of truly great competition.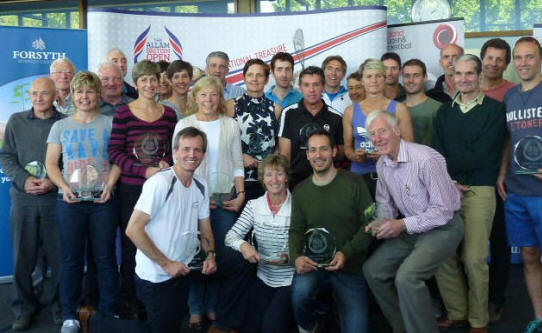 The day was kicked off by the ladies over 55 final between number 1 seed Jill Campion of Middlesex and number 2 seed Pauline Douglas of Scotland. Both women have been played some extraordinary squash throughout the tournament and a battle was expected. The match did not disappoint. All of the games were so close and the two women played their hearts out. Douglas just managed to overpower Campion and took the win 9-7, 9-7, 9-5 in 28 minutes.
The men's competition got off to a fantastic start with the men's over 60 number 2 seed Nick Drysdale battling against 5/8 seed Stephen Jackson. Drysdale has been playing superbly well since the competition began and was hot favourite going into the final. Jackson played some great squash but was overpowered by Drysdale who took the match 9-5, 9-2, 9-6 in 27 minutes.
The first big upset of the day came in the men's over 55 category, when 3/4 seed Jeremy Goulding beat top seed Peter Alexander relatively comfortably in 3 games to 0. This was Goulding's first year in this age category and youth prevailed. Alexander played well in the first game but could not quite get the ball passed Goulding. Goulding then stepped up the pace and took the championship in 20 minutes.
The Women's Over 45 Final was won by  3/4  seed Andrea Santa Maria from Yorkshire who took on top seed Nicky Horn, also from the white rose county. In the first game Horn started solidly and took it 9/4. Santa Maria found herself 6/0 down in the 2nd, but got herself back into contention by playing tight accurate lengths , moving Horn out of position and clinched it 9/7. Santa Maria had now settled into the match and played accurately to take the 3rd 9/0. Santa Maria raced to a 5/0 lead in the 4th, but following a collision was winded and this gave Horn the opportunity to close the gap.  Unfortunately shortly after this point Horn retired feeling unwell
The men's over 50 final top seed and hot favourite to win Eamonn Price took on 5/8 seed Ged Martin. Price came out raring to go and took the first two games in a whirlwind 9-0, 9-1. Martin got going in the 3rd and was not going to give up a shot at the title easily. Price was 7-1 up when Martin stepped up a gear and brought it back to 8-8. Price proved he was number 1 and finished off the match 10-8.
The men's over 70 final was an epic battle between 3/4 seed Mike Clemson and 2nd seed Adrian Wright. In a match that took 40 minutes both players had their highs and their lows and both started so well with wright taking the 1st game 9-7 and Clemson taking the 2nd game 9-7. Clemson managed to maintain his composure in the 3rd game and took it 9-1. Wright however was not about to be walked over and came back to take the match 3-2.
The men's over 75 category saw the top 2 seeds Pat Kirton and John Woodliffe fight it out to see who will be crowned British Open Champion. Both men have dominated the tournament so far each reaching the final with relative ease. The first game was a furious battle, where Kirton ran ahead to 8-1, but Woodliffe played exceptionally well to bring it back to 8-8. Kirton proved true to his seeding however and took the first game 10-8. Woodliffe struggling against Kirton's incredible accuracy in the following games and Kirton won 3-0 in 31 minutes, to become victorious.
The women's over 40 category took a surprising turn and saw 2 unseeded players make it through into the final. Sarah Parr and Amanda Warren have both exceeded everyone's expectations and managed to take out the top 2 seeds in great style. Warren came out on top in the final and beat her opponent 9-4, 9-1, 9-6 in 27 minutes.
Top 2 seeds Mandy Akin and Fran Wallis made their way through to the final with ease, and the match between to two women looked like it could be a corker. Akin came out all guns blazing and took the first game 9-0, with Wallis not having much time to think. Wallis stepped up her game in the 2nd however and came back from 5-0 down to make it 8-8. Akin proved too strong and after taking the 2nd game 10-8 she ran away with title winning 9-2 in the 3rd.
The men's over 45 competition played out as predicted and saw top 2 seeds Craig Van der Wath and Jean Jacques Pineau in the final. The match was one sided from start to finish with Pineau unable to overcome Van der Wath's discipline, control and fitness. Van der Wath took the title 3-0 in just 28 minutes.
The women's over 60 competition was a straight final between Bett Dryhurst from Worcestershire and Jean Grainger who has made it all the way from South Africa. The two women played some beautiful squash and both were in great spirits right until the end. Bett persisted and won the crown 3-0 in a swift 17 minutes.
Top seeds Phil Ayton of Sussex and Brian Cox of Australia fought it out in the final for the chance to become British Open champion. Ayton got off to a slow start and Cox took full advantage and pulled off a 9-1 win in the first game. Ayton however was not going to lie down and take this, and stepped up his game to prove his number 1 status and won the next 3 games taking the match in 39 minutes.
The men's over 35 competition this year has been one of the most competitive ever. Top seed Scott Handley has played exceptionally well all year and was on track to take the title. 2nd seed Tim Burrell however was poised to create quite an upset. Burrell started really well and pushed Handley to his limits, but unfortunately Burrell could not overcome the power of Handley's shots. The first game was a competitive 12-10 to Handley, but Burrell looked to run out of steam in the following games and Handley grabbed the title with both hands winning 3-0 in an impressive 21 minutes.
The last match of these incredible finals was the men's over 40 match between top seeds Jamie Goodrich and Nick Wall. This epic battle had the crowd right on the edge of their seats for over an hour. Both men played well beyond their years and showed they are true competitiors. The match was close from start to finish with only a few points between them. Wall came out on top in the 5th and deciding game to take the British Open Men's over 40 champion title, and rounded off an tremendous tournament.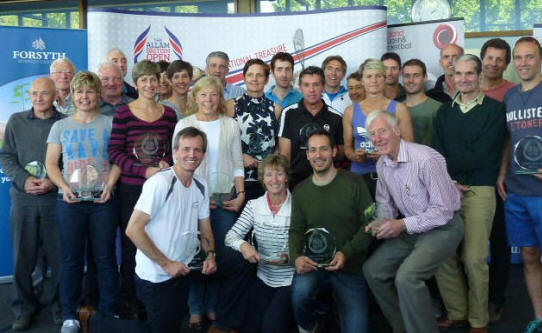 Men Over 35 – FINAL
1* Scott Handley beat 2* Tim Burrell {Berkshire}  12-10, 11-3, 11-1 {21m}  ;
Men Over 40 – FINAL
:2* Nick Wall {Yorkshire} beat 1* Jamie Goodrich {Norfolk}  11-9, 7-11, 11-9, 9-11, 11-8 {68m}  ;
Men Over 45 – FINAL
1* Criag Van Der Wath {South Africa} beat 2* Jean-Jacques Pineau  9-0, 9-3, 9-3 {28m}  ;
Men Over 50 – FINAL
1* Eamonn Price {Hertfordshire} beat 5/8* Ged Martin {Yorkshire}  9-0, 9-1, 10-8 {32m}  ;
Men Over 55 – FINAL
3/4* Jeremy Goulding {Avon} beat 1* Peter Alexander  9-2, 9-1, 9-3 {20m}  ;
Men Over 60 – FINAL
2* Nicholas Drysdale {Avon} beat 5/8* Stephen Jackson {Surrey}  9-5, 9-2, 9-6 {27m}  ;
Men Over 65 – FINAL
1* Phil Ayton {Sussex} beat 2* Brian Cook {Australia}  1-9, 9-5, 9-6, 9-4 {36m}  ;
Men Over 70 – FINAL
2* Adrian Wright {Nottinghamshire} beat 3/4* Mike Clemson {Yorkshire}  9-7, 7-9, 1-9, 9-2, 9-1 {40m}  ;
Men Over 75 – FINAL
1* Pat Kirton {Surrey} beat 2* John Woodliffe {Gloucestershire}  10-8, 9-1, 9-2 {31m}  ;
Women Over 40 – FINAL
3:Amanda Warren beat Sarah Parr {Berkshire}  9-4, 9-1, 9-6 {27m}  ;
Women Over 45 – FINAL
/4* Andrea Santa Maria {Yorkshire} beat 1* Nicky Horn {Yorkshire}  4-9, 9-7, 9-0, 4-5 {Retired} {36m}  ;
Women Over 50 – FINAL
1* Mandy Akin {Kent} beat 2* Fran Wallis {Lincolnshire}  9-0, 10-8, 9-2 {20m}  ;
Women Over 55 – FINAL
2* Pauline Douglas {Scotland} beat 3/4* Jill Campion {Middlesex}  9-6, 9-7, 9-5 {28m}  ;
Women Over 60 –
:Bett Dryhurst {Worcestershire} beat Jane Hill {Derbyshire}  Walkover  ;Jean Grainger {South Africa} beat Jane Hill {Derbyshire}  Walkover  ;26/05/2013:Bett Dryhurst {Worcestershire} beat Jean Grainger {South Africa}  9-5, 9-7, 9-3 {17m}  ;