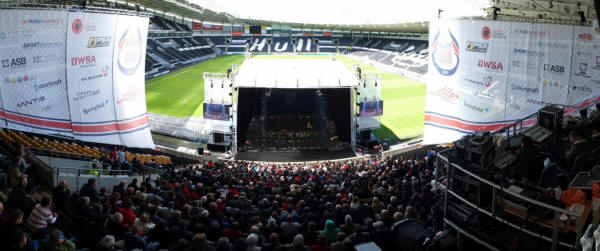 ALLAM BRITISH OPEN 2013, FINALS:
 [2] Laura Massaro (Eng) 3-1 [1] Nicol David (Mas) 11/4, 3/11, 12/10, 11/7 (53m)
[1] Ramy Ashour (Egy) 3-1 [4] Grégory Gaultier (Fra)  7/11, 11/4, 11/7, 11/8 (64m)
Two new Champions crowned in Hull
Laura Massaro became the first home winner of the women's British Open since 1991 with a fantastic display at the KC Stadium in which she beat defending champion Nicol David in four games.
Ramy Ashour became the first Egyptian men's champion since 1966 as he came from a game down to beat former champion Grégory Gaultier to claim the title for the first time.
---
Previews:
Finals Day at the KC Stadium
Two fantastic finals in store for another full another full house crowd at the KC Stadium this afternoon, with whe reigning world champions and world number ones both in action.
Nicol David will be attempting to claim a fifth British Open title to add to her already impressive collection which is lacking a major title so far in 2013, but the Malaysian superstar will face determined resistance from England's world number two Laura Massaro, who will surely have the majority of the crowd behind her as she aims to supply a first British women's champion since 1991.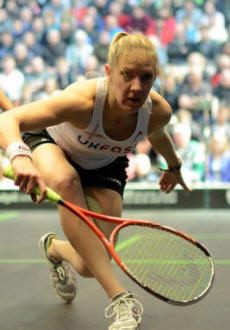 Ramy Ashour has been unbeatable since losing out in last year's final, but the British Open remains the one big title the Egyptian has yet to collect. Grégory Gaultier has been here before too, winning an all-French final in 2007, and will be eager to add to his collection of World Series titles.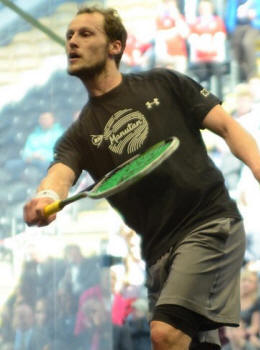 On paper both Massaro and Gaultier face uphill tasks – Massaro beat David in their last meeting, the KL Open semi-final in March, and they finished one-each in January's world series finals, but Nicol has an 18-4 lead in their WSA meetings since 2005, winning eight of the last ten.
Gaultier's deficit in PSA meetings is a similar 18-5, but four of the Frenchman's wins were in their early meetings and he has only one win against Ashour this decade. The Egyptian has won 15 of the last 16, and all six in 2012 and 2013 (Gaultier's sole win in this period came when Ashour was playing with injury in the 2011 World Open).

PSA/WSA Head to Heads, from www.squashinfo.com