The second round continues at the KC Stadium today with eight more matches which will complete the quarter-final lineups. Meanwhile over at the University of Hull the Masters competitions gather pace.
NOTE: If you're coming to watch, remember it's an outdoor venue, so dress appropriately, the weather is on the cool side at the moment ..
We'll once again be bringing you results and end-of-day report here on TODAY, match reports on the BLOG, instant results on Twitter , and lots of photos in the Gallery.
Round Two (continued):

Evening Matches:
[14] Omneya Abdel Kawy (Egy) 3-0 [5] Nour El Sherbini (Egy)  16/14, 11/7, 11/8 (29m)
[1] Ramy Ashour (Egy) 3-0 [Q] Chris Simpson (Eng) 11/2, 11/4, 11/9 (22m)
[2] Laura Massaro (Eng) 3-1 [15] Dipika Pallikal (Ind)  7/11, 12/10, 11/9, 11/6 (45m)
[3] James Willstrop (Eng) 3-0 Simon Rosner (Ger)  11/9, 11/1, 11/6 (106m 41mplay)
Afternoon matches:
[8] Jenny Duncalf (Eng) 3-0 Nour El Tayeb (Egy)    14/12, 11/4, 11/4 (25m)
[8] Borja Golan (Esp) 3-1 [Q] Karim Abdel Gawad (Egy)   9/11, 11/9, 11/8, 11/4 (55m)
[3] Raneem El Weleily (Egy) 3-0 [11] Madeline Perry (Irl)  11/7, 12/10, 11/4 (25m)
Cameron Pilley (Aus) 3-2 [6] Mohamed El Shorbagy (Egy) 13/15, 4/11, 11/9, 11/6, 13/11 (74m)
[/dropshadowbox]
Pilley comeback stuns Shorbagy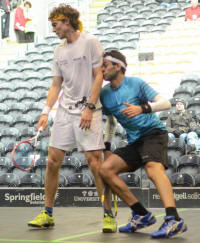 The day started with a quick win for Jenny Duncalf who, after edging the first against Nour El Tayeb, took control of the match to advance to the quarter-finals, where she will meet another Egyptian in Raneem El Weleily, who beat Madeline Perry in straight games.
A determined performance from Borja Golan saw the Spaniard come from a game down to beat qualifier Karim Abdel Gawad in just under an hour, and a seeded Egyptian fell when Cameron Pilley came from 0-2 and 3-9 down to beat Mohamed El Shorbagy in the match of the tournament so far.
The evening session, with the temperature dropping, saw a trio of matches featuring short sharp exchanges.
First was an all-Egyptian between last year's finalist Nour El Sherbini and Omneya Abdel Kawy, – their first meeting, as it turned out. It was the experienced Kawy who prevailed, just getting ahead at the end of each of the three games.
Then it was another Egyptian who lost out in last year's final. Ramy Ashour raced to a 10-0 lead over England's Chris Simpson, who scored his first point with a service return into the nick. Ashour was soon a game ahead though, and not much afterwards was two games ahead. Simpson made a real game of it in the third though, and Ashour's fist pumps at the end of the match demonstrated his desire to finish the match as quickly as possible – and the continuation of his year-long unbeaten record.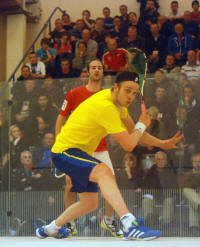 India's Dipika Pallikal took advantage of the conditions to quickly establish a one-game and 8-3 lead over second seed Laura Massaro, but the Englishwoman dug deep to take six points in a row to level the match, and was always marginally in front in the next two.
The final match of the night was cut short midway though the first game as rain found its way onto the court at the KC Stadium. So, with England and Yorkshire's James Willstrop trailing 5-6 in the first, he and Simon Rosner moved to the Hull and East Riding Club to conclude their match.
Willstrop started strongly to take the first, raced through the second with Rosner becoming quite frustrated with the decisions he was getting, and pulled clear from 3-all after a hard-fought opening to the third.